Higher Educational Buildings
Higher education buildings must serve the functions within them, but they must also have robust, flexible building systems that will operate for years and be energy efficient.
Most of the institutions we work with value energy efficiency and an environmentally friendly approach to their building projects.  To date, we have designed over 1 million square feet of LEED-certified, sustainable educational projects.
University of Texas Health Science Center -
Center for Oral Health Care and Research
A four-story education/research building in San Antonio, Texas that includes an ambulatory surgical center, 400 dental chairs, medical support, patient support, exam rooms, computer rooms, dental labs, support facilities and a three-story, 500-car parking garage.
Project Architect: Marmon Mok, San Antonio, Texas
Total GSF Building: 199,900 gsf
Total GSF Parking Garage: 184,000 gsf
Project Cost: $68,000,000

Our work on the project included:
Central medical and dental gas supply and vacuum serving all levels
Dual redundant 35,000V primary electrical services driving network transformers coupled to a 5000 A main-tie-main double ended substation
1250 kW/ 1562.5 kVA diesel driven emergency generator supporting essential electrical distribution systems
Heat provided by three non-condensing boilers
950-ton cooling capacity achieved using campus chilled water and 285,000 cfm air handling units
Ambulatory surgical center and Level 1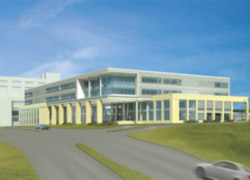 University of Texas - Liberal Arts Building
Six-level office, classroom and laboratory building for UT Austin College of Liberal Arts.
Project Architect: Overland Partners, San Antonio, Texas
Total GSF Building: 204,000 gsf
Project Cost: $66,000,000

Our work on the project included:
250 chilled beams for perimeter office cooling and heating
Architecture and engineering system options were modeled simultaneously to achieve maximum energy efficiency
Solar water panels – domestic hot water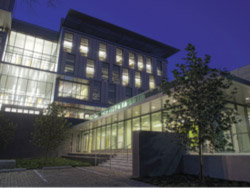 Austin Community College -
Round Rock Campus
Five buildings located on a 48-acre site, accommodating 5000 students with a 1500-car parking area, and 500-person outdoor amphitheater. Core programs offered at this campus are: associate degree nursing, medical laboratory technology, radiology, sonography, surgical technology, chemistry, biotechnology, building construction, welding, automotive technology, computer/IT, and business. 
Project Architect: GSC Architects, Austin, Texas
Total GSF Buildings: 276,000 gsf
Project Cost: $110,000,000
LEED Silver Certified

Our work on the project included:
2800-ton total capacity thermal energy plant
Building recycled cooling coiled condensate pumped to thermal energy plant for cooling tower make up water
Variable volume supply/exhaust systems with constant offset pressure controls, and N+1 high plume laboratory exhaust fans
Custom designed welding booths, oxyacetylene booths, articulating arm exhaust, compressed air, oxygen, acetylene oxygen and acetylene storage, automotive lifts, wood exhaust and CO2 exhaust systems
Loop feed configured 25 kV underground electrical distribution system
Electrical distribution service capacity 8.0 MW
Emergency generator capacity 1.5 MW
Campus wide mass notification system
Campus wide bi-level area lighting system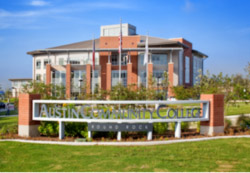 Additional Higher Education Experience Includes:
University of Texas - Biotechnology Building
University of Texas Brownsville - Regional Academic Health Center 
University of Texas - College of Biomedical Engineering
University of Texas - Dallas SW Medical Clean Rodent Center
University of Texas - Gebauer Building
University of Texas - Graduate School of Business Administration Computer Center
University of Texas Harlingen - Regional Academic Health Center - Phase I and II
University of Texas - Institute for Biotechnology
University of Texas - M.D. Anderson Cancer Research Lab III - Smithville
University of Texas - McDonald Observatory SST
University of Texas - Molecular Biology Building
University of Texas Pan Am - General Classroom & Computer Center Building
University of Texas San Antonio - HSC Children's Cancer Research Institute
University of Texas San Antonio - HSC Institute of Biotechnology
University of Texas San Antonio - HSC Medical Arts & Research Complex
University of Texas San Antonio - West Campus Lab
University of Texas - Student Services Building
University of Texas - Welch Hall
Austin Community College - Cedar Park Campus
Austin Community College - Health Careers Building - Phase I and II
Concordia University - Athletic Field House
Concordia University - New Campus
Southwestern University - Alma Thomas Theater and Fine Arts Expansion
Southwestern University - Cullen Building
Southwestern University - Olin Building
Southwestern University - Central Plant Expansion
St. Edward's University - New Residence Hall
St. Edward's University - Campus Center
Texas A&M University - Round Rock Campus
Texas A&M University - Corps of Cadets Center
Texas A&M University - Tarleton - Math Building and Library
Texas A&M University Laredo - Western Hemispheric Trade Center
Texas A&M University Temple - Regional Health Science Education Center
Texas State University San Marcos - Classroom/Science Building
Texas State University San Marcos - Emmett & Miriam McCoy Hall
Texas State University San Marcos - Commons Complex - Laurel Hall, Brogdon Hall, Commons Building, Beretta Hall