Government Buildings
We outfit, renovate, and improve state and local government buildings. Each project is approached with careful consideration of budget, timing and the best system designs to support the daily functions performed at each location. We help government entities achieve savings while providing employees with modern amenities and systems.
Texas Facilities Commission - Stephen F. Austin Renovation & MEP Deferred Maintenance Project
Renovation of five floors and a central plant in Austin, Texas.
Project Architect: Ford, Powell & Carson, San Antonio, TX
Total GSF Building: 420,000 gsf
Project Cost: $19,000,000

Our work on the project included:
3900-ton water-cooled chillers serving the Travis, LBJ and SFA Buildings
VAV AHU's with VFD's on the renovated floors
New DDC controls
Complete elevator upgrade
Complete electrical upgrade in the central plant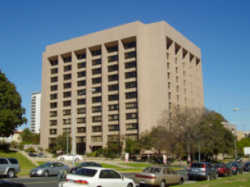 Texas Department of Transportation -
Dewitt C. Greer Office Building
Renovation of a historic nine-story building in Austin, Texas, originally built in 1933. All construction work was carried out while the building was occupied. We were awarded The Associated General Contractors of America Outstanding Construction Award for this project.
Project Architect: J. Robinson & Associates, Architects, Inc., Austin, Texas
Total GSF Building: 75,000 gsf
Project Cost: $19,000,000

Our work on the project included:
Fully renovated mechanical, electrical and plumbing systems
New 12,470V to 480/277V Austin Energy transformer to serve the building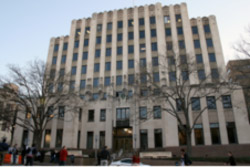 Bexar County Adult Detention Center Annex – Solar Project
Designed one of the largest evacuated tube solar collection systems in the United States for a detention center in San Antonio, Texas. This system saves the center 50% of historic gas consumption.
Project Architect: HMG was the primary firm, Austin, TX
Total GSF Building: 10,000 gsf
Project Cost: $3,000,000

Our work on the project included:
Design of new 216 panel evacuated tube solar collection system
20,000-gallon hot water storage tank
Real time monitoring and control of the system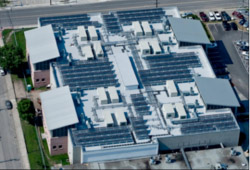 Additional Government Building Experience Includes:
Stephen F. Austin - Building Evaluation / Renovation
Rudder Building - HVAC System Evaluation
Department of Public Safety - Headquarters Renovation
Department of Public Safety - Crime Records Building
Department of Public Safety - DNA Lab - CODIS - Firearms Lab
Department of Public Safety - AFIS
TxDOT - D.C. Greer Building Phase I, II & III (13 projects)
TxDOT - South Region Rest Stops (Six projects)
TxDOT - Langtry Travel Information Center
TxDOT - Alice Engineering and Maintenance Facility
Texas Facilities Commission - E.O. Thompson Building
Texas Facilities Commission - LBJ Building
Texas Facilities Commission - Travis Building
Texas Facilities Commission - Rusk Building
Texas Parks & Wildlife Dept. - Indian Lodge at Davis Mountains
Veterans' Administration - Building Expansion
Veterans' Administration - Annex
Fort Hood - Green Building Project
Ft. Sam Houston - Housing
Ft. Sam Houston - Building 2792 Solar Array Structure
Ft. Sam Houston - Green Building
Ft. Sam Houston - Buildings 4196 and 4197
Ft. Sam Houston - Middle School
Ft. Hood - Barracks
Ft. Hood - Renovation to Building 39041
Ft. Sam Houston - Dining Facility 0025
Randolph AFB - Building 499
Randolph AFB - Building 862
Lackland AFB - Collocated Dining Facility
Lackland AFB - Mission Support Center
Lackland AFB - Dorms
Gary Job Corps. - New Gymnasium
Gary Job Corps. - Building 5100
Kelly AFB - Building 1470
Kelly AFB - Building 1614
Kelly AFB - Building 1628
Kelly AFB - Building 345
Kelly AFB - Building 57
Kelly AFB - Building Chrome Plating
U.S. Post Office - multiple new buildings